This article is based on individual research trying to expose the attitude of men, menstrual pains and romance.
So many men have this caring attitude towards their partner when they're off their monthly period more than when they are on.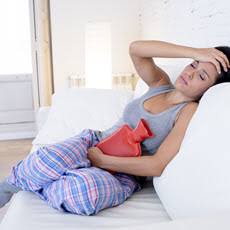 The attitude may be attributed based on individual differences but about 80% of men are victim of this epistle.
When she is not on her menstrual cycle, the affection shown is much more because of the following:
1. He's scared that he might get horny without going down
2. He is irritated by blood.
3. He has high libido
4. The Lady is always horny within this period and the guys gets scared on how to calm her down in her condition.
Above are often some of the excuse for guys/men being distant from their partner during menstrual cycle.
Menstrual cycle is one of the ways in which most men are put on sabbatical from eating. It is also applicable to the ladies who cannot control their high libido.
I over heard two ladies discussing how they cannot stay a day without doing it. They continued to express how it drives them crazy if they are denied of their pleasures.